National Student Show & Conference 15
DONE was awarded the
Best Concept In Show
award from Jeff Barfoot, the Principal/Creative Director of Dallas-based design firm RBMM, at the 15th annual NSSC in Dallas, Texas. The project was also awarded for 
Best Advertising Campaign
.
The idea of fashion needs a makeover. It is much more than the runway and materialistic ideal.
—
Those of us who have been placed into marginalized ethnic and social positions are only trying to participate. In this context, marginalized refers to anyone who is non- White or those who are not White-passing. We're DONE being excluded from a good quality of life that has been reserved predominantly for Caucasians. DONE is not shaming or looking to attack White people. Rather, it is meant to further dialogue regarding problematic ideals on appearance perpetuated by the fashion industry that are inherently Eurocentric.
1. New York Fashion Week SS19—first season where non-White models accounted for over 40 percent of castings. But not the front row.
2. Harper's BAZAAR—from 2000 to 2019, less than 20 covers feature people of African descent. Only one Méxican has ever been shown on the cover. No non-White has ever shot a cover for BAZAAR.
3. Vogue—Tyler Mitchell became the first photographer of African descent to shoot the cover of Vogue in 2018.
—
This is not to say progress isn't happening but there is a long way to go. As marginalized voices fight for recognition, Caucasians seek exclusivity. Change can happen when diverse individuals are allowed to participate and interact with one another as well as Caucasians.
Social constructs are not made to fit. DONE highlights issues of discrimination, raises cultural awareness, as well as provides a presence for the unknown, forgotten, and marginalized.
—
The title DONE originates from the personal feeling of being done—done conforming or acculturating myself to eurocentric constructs in an effort to receive acceptance and happiness. And I'm not the only one.
This project does not rely solely on the voice and vision of one person. We challenge the status quo together. With that said, a quantitative survey was created as a deliverable to gain the viewpoints of interested individuals in an effort to improve the project's relatability and usability.
Conversations and actions are more impactful through the power of the people as a collective. Caution was taken to not formulate a survey that was misleading or manipulative but would encourage users to respond honestly—creating a platform for the audience to understand their real-life needs. All of the responses are anonymous.
DONE is primarily geared towards millennials who are self-inventive, tech savvy, and non-conforming. However, the audience includes anyone passionate or interested in social change. A digital platform was chosen as it is immediate and would disseminate the message on a broader scale.
Awareness can further conversations and open-mindedness to create genuine and effective solutions.
—
To change perceptions thus institute acceptance within the fashion industry.
Photography is used over illustration as it shows what is real. Black and white allows viewers to focus on subjects without influence of color. The imagery is conceptually driven to communicate deeper meanings and imagination for relatability. The compositions are graphical and confrontational, hooking viewers' attention.
—
These are shown throughout the publication on section opener covers and single-topic statements at the end of each section.
Second from left
: Photograph courtesy of Zoe Ariel. All other campaign photography shot by myself.
Social Constructs Campaign
The purpose of these ads is to bring awareness to issues perpetuated by the status quo. Graphical and confrontational photography is used to gain attention. These would be advertised through social media and metropolitan landscapes.
​​​​​​​ Follow DONE on Instagram
@donethemagazine
.
Advertising in metropolitan environments seemed plausible as a high volume of millennials and GenZ resides in these areas. Devoid of sentences, attention is drawn to the Instagram link to get more users involved.
DONE builds relationships with people through email campaigns that aim to convert passive prospects into leads who trust the publication. This email is designed to inspire people about the concept and get them to engage with DONE on social media. The campaign was created using Mailchimp.
A digital platform was chosen as it is immediate and would disseminate the message on a broader scale, especially to millennials. Showcasing the publication on social media—e.g. Instagram—was considered. However, there is no way to organize this amount of sensitive content effectively as it would be overwhelming. As its own application, DONE has the ability to be fully responsive.
—
The typefaces used are
Bebas Neue
and
Adobe Caslon Pro
. Bebas Neue is powerful and reminiscent of protest posters. Despite having a blunt nature, DONE is responsible and intellectual. Multiple angles of an issue are evaluated while facts are checked and come from reliable sources. Therefore, Adobe Caslon Pro is used to provide a sense of sophistication and knowledge.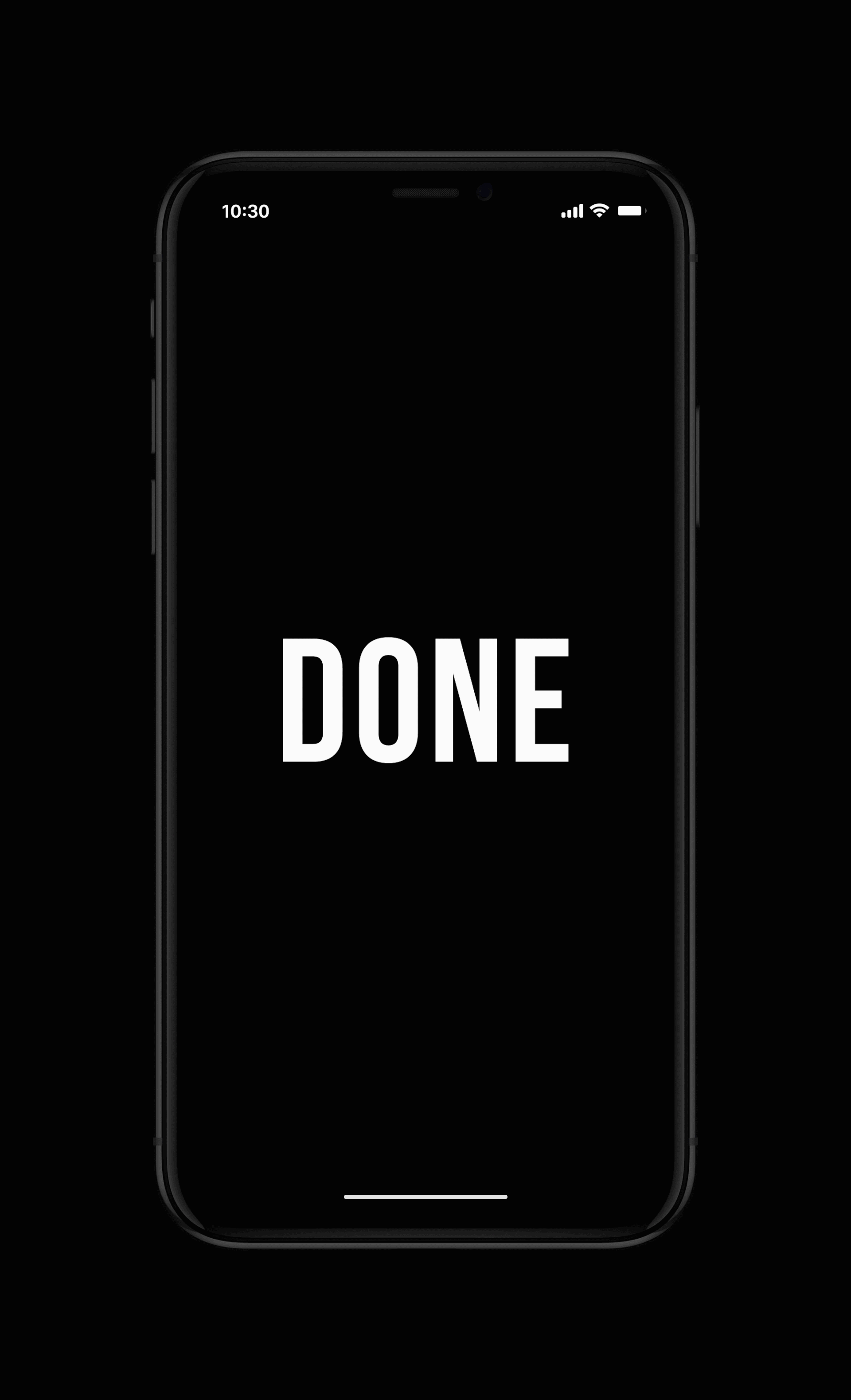 When opened for the first time, users are presented with the mission statement that then transitions to the cover of the most current issue. In this case, Issue I.
The front of book contains an opening statement, letter from the editor, and a short topic. DONE, Issue I, focuses on the case of ethnic diversity used as a capitalistic mechanism within the fashion industry.
Contents can be found in the hamburger menu located in the upper left corner of the screen. The navigation is simple for quick access of material.
—
When tapped, ISSUES drops down to show a list of available releases to select from. The table of contents is shown after selecting a specific issue. The MARKERS tab contains any bookmarks an user may have created by tapping the bookmark icon. ASSIST is a list of real world resources that anyone can take advantage of if they choose—discussed more in Back of Book.
This section contains any major articles including an interview, cover story, and critique.

The Interview directly shines a light on individuals wanting to share their stories that can both inspire and inform readers. This was added based on multiple survey responses asking for its implementation.
The Cover Story challenges the perceptions surrounding contemporary menswear in an era that is increasingly feminine.
The Critique questions the Fendi SS18 collection labeled as Italian Futurism when cultural evidence points it to being Egyptian.
The back of the book contains a final one-page topic, call-to-action, assist list, imprint, and end screen.
Questioning the status quo includes acknowledging how beauty standards have effected us all. ASSIST provides a list of real-world resources meant to support any user suffering from depression, suicidal tendencies, eating disorders, etc through every step. This was instituted especially for readers who feel forgotten and their struggles unheard.
DONE operates as a vehicle providing marginalized voices a platform so they may not only feel heard but actually be heard. A ladder to help us all escape from the depths of social constructs—to elevate those who feel forgotten to that of revered.
—
The future of this publication is bigger than its current fashion focus. Using fashion as
a starting point, there is potential to spark change within tech, medical, engineering, and advertising as well as many other industries. Let's challenge the status quo. We no longer conform. We are DONE.