WILEY is an exhibition catalogue designed in honor of Kehinde Wiley and his masterful works. His larger than life paintings depict contemporary subjects of men and women of African descent in classical positions of power, juxtaposing old Eurocentric ideologies with the new. The works in this catalogue were curated by myself and organized into different sections. The book is intended for the LACMA—Los Angeles County Museum of Art—hearkening back to an important early experience Wiley had with art that sparked his curiosity to learn and be more. Above, the shortfold image shows beneath the die-cut cover.
Above, the opening shortfold and die-cut cover are opened to reveal the title page.
As the catalogue is of a larger format, minimal page layouts balance the complexity—color, pattern, posing—evident in Wiley's paintings. The usage of old style and modern typography work harmoniously to further emphasize the idea of the "old" contrasted by the "new."​​​​​​​
The layouts of each section opener serve to compliment the subjects of the image beside it—a collaboration between type and image as both offer equal contemplation. Adequate white space allows the works to draw closer attention from observers. Thin rules were used to divide dense information or call subtle attention to singular items.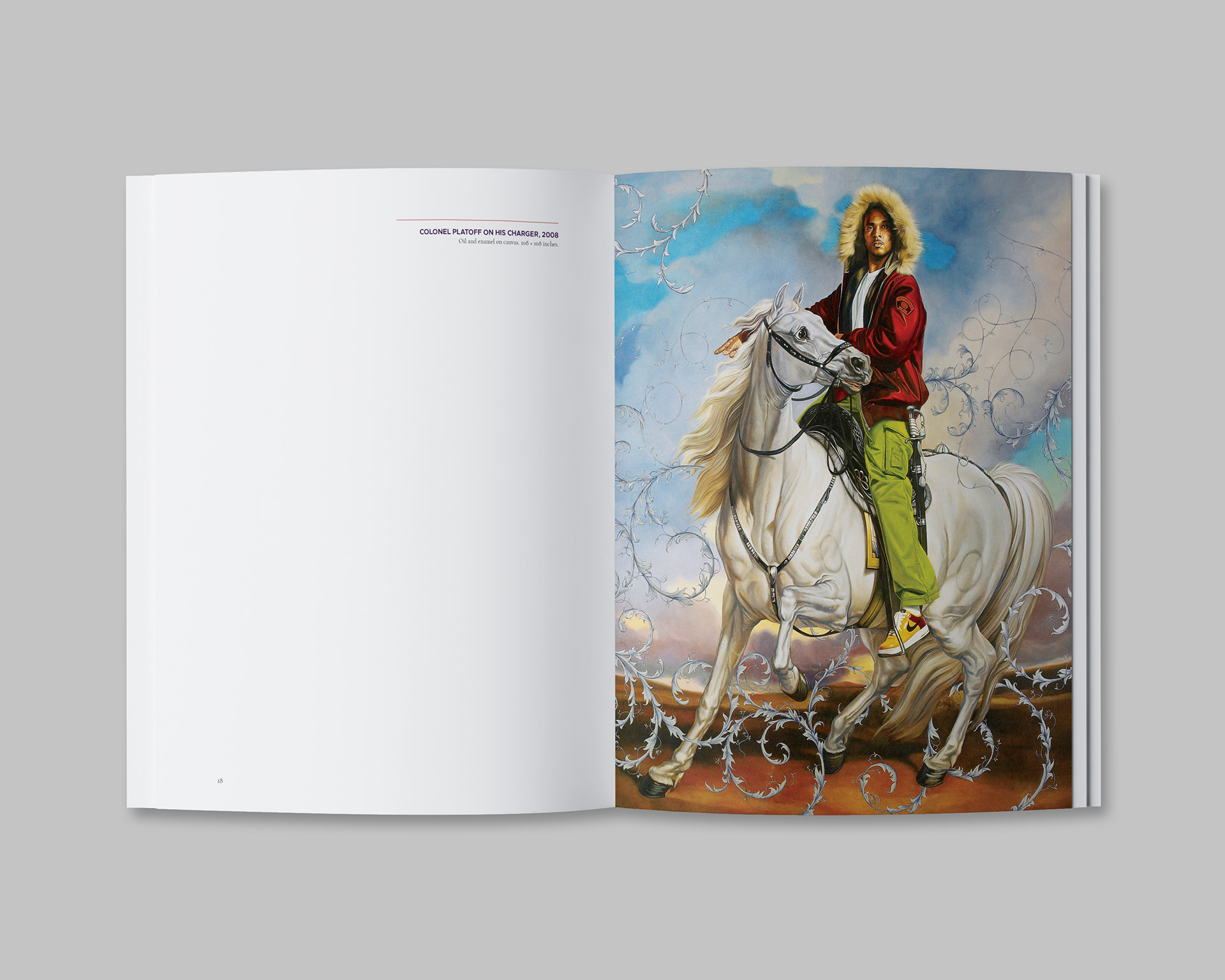 Above, the closing shortfold is opened to reveal the colophon on the reverse of the back cover.
Designer/Director/Curator: Mark Baker-Sanchez
—
All works courtesy of and copyrighted by 
Kehinde Wiley
. A Los Angeles native and New York-based visual artist, Kehinde Wiley has firmly situated himself within art history's portrait painting tradition. As a contemporary descendent of a long line of portraitists—including Reynolds, Gainsborough, Titian, Ingres, and others—Wiley engages the signs and visual rhetoric of the heroic, powerful, majestic, and sublime in his representation of urban black and brown men and women found throughout the world.