The Alchemist
is the senior graduation collection of AUGIE and is a symbolic presentation of the designer's personal belief and spirituality.
For their senior collection, AUGIE crafted a collection based on the concept of alchemy. Alchemists wanted to transform things into something more valuable, such as converting lead into gold. Their practices led to the development of pharmacology and the rise of modern chemistry. The idea of alchemy is translated into the collection through an aesthetic by mixing elements from two cultures together — traditional Mongolian and modern European — to create very unique combinations. Purity is expressed through white in both the mind and soul while the black line details represent the journey or path of one's life.
To strategize and direct the campaign for the AUGIE SS21 collection. The process involved research into the study of alchemy, strategizing and planning the shoot, building a team, casting a model, location scouting, photography, film as well as designing the campaign layouts for print and digital.
Feel free to take a look at the
mood board
that was developed as a guide for the photoshoot.
The woman that wears AUGIE is someone who has a sense of their physical and spiritual self. Someone who doesn't feel the need to completely stand out in a crowd yet is still interested in unique shapes and expertly tailored forms. For the AUGIE woman, perfection is spiritual beauty that can be achieved through meditation.

The campaign layouts feature photography surrounded by a black border, centering the craft of the clothing and echoing the black piping from the garments. A purified design style creates a calm, classic, minimal and timeless aesthetic that does not distract from the meditative designs and furthers the collection concept.
The SS21 Alchemist campaign film visualizes the AUGIE woman in a state of contemplation — meditation is valuable to her for gaining and maintaining spiritual purity. The outlook of her physical presentation is in tandem with her unseen character. The clothing she chooses to wear is an extension of her beliefs in universal beauty and artistic expression.
The campaigns are shown on billboards in metropolitan areas to further exhibit the collection and AUGIE brand to the general public. Short clips from the film of each look are also advertised in the Story on Instagram.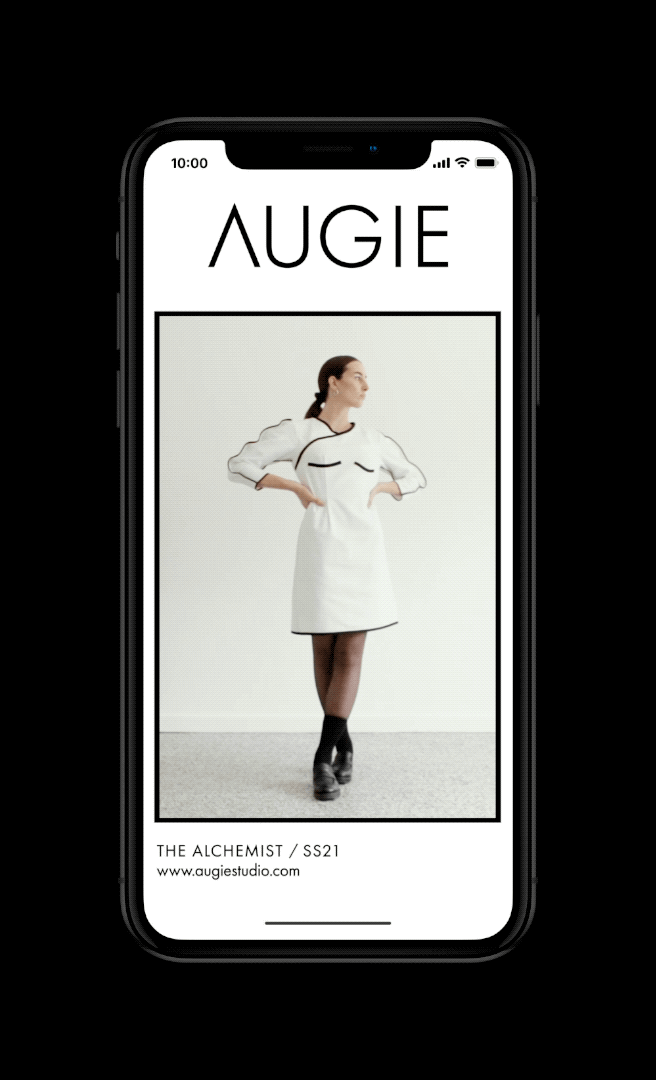 Designer: AUGIE
Creative Direction/Casting/Photography/Video: Mark Baker-Sanchez
Hair/Makeup/Styling: Belinda Barbosa
Model: Katherine Stiles