Kent Barker
is a Dallas-based photographer with over 30+ years experience in the industry. He has shot couture fashion for Neiman Marcus and national ad campaigns for companies like Corona, Four Seasons Hotels, Budweiser
&
Nike. Kent has also photographed album covers for music legends like Jerry Lee Lewis and created portraits for a wide array of magazines including Rolling Stone, Outside, Travel
&
Leisure, Texas Monthly, Vanity Fair, and Fast Company. In addition to his incredible advertising and portrait work, Kent creates stunning dance imagery. He combines the movement awareness of a former dancer with the lighting and technical expertise of seasoned professionals from companies including Dallas Black Dance and Bruce Wood.
Graphis Poster 2024 Silver Award Recognition
I'm grateful that my creative work for TRANSCEN
DANCE 
has earned me a silver accolade in the Graphis Poster 2024 Awards. This project is showcased on the Graphis website
here
and in the much-anticipated Graphis Poster 2024 Awards book, both print and digital.
Creating a Lasting Impression
Kent was preparing to head to the 2022 FotoFest Biennial in Houston and wanted to bring with him a printed piece that called attention to his dance imagery, and would be something for interviewers to remember him by. For this project, a foldout was determined to be the most effective as it would be compact enough for Kent to carry and for interviewers to receive and keep.
I wanted to elevate Kent's work with bespoke typographical pairings and a sensible layout. The purpose was to find a way for the imagery and design to partner with one another — to dance and synchronize. This was done by using an ampersand motif that illustrates around the dancers on the cover of the foldout. The rest of the material exhibits the dancers and Kent's story in a purified yet emotive manner. This project also included copy editing and concepting the title of the piece, TRANSCEN
DANCE
.
As part of the digital promotional strategy for TRANSCEN
DANCE
, an animated cover was created to bring life and movement to the imagery. The intention was to inspire more engagement from viewers on social media through a simple motion of the ampersand wrapping itself around the dancers.
Gallery Exhibition Promotion
Shortly after FotoFest, Kent received the opportunity to showcase his dance photography at the Janette Kenneday Gallery in Dallas, TX. For this event, Kent was in need of various materials for omnichannel promotion including posters, social media assets, invitation cards, and an emailer custom branded around the look and feel of the original foldout.
The gallery opening reception attracted 50+ industry professionals, directors, and leaders within the performing arts, photography, and the broader visual arts community. It also led to a highly anticipated panel discussion where Kent and a few of the dancers discussed their collaborative process for achieving such remarkable images together. This event attracted 30+ attendees.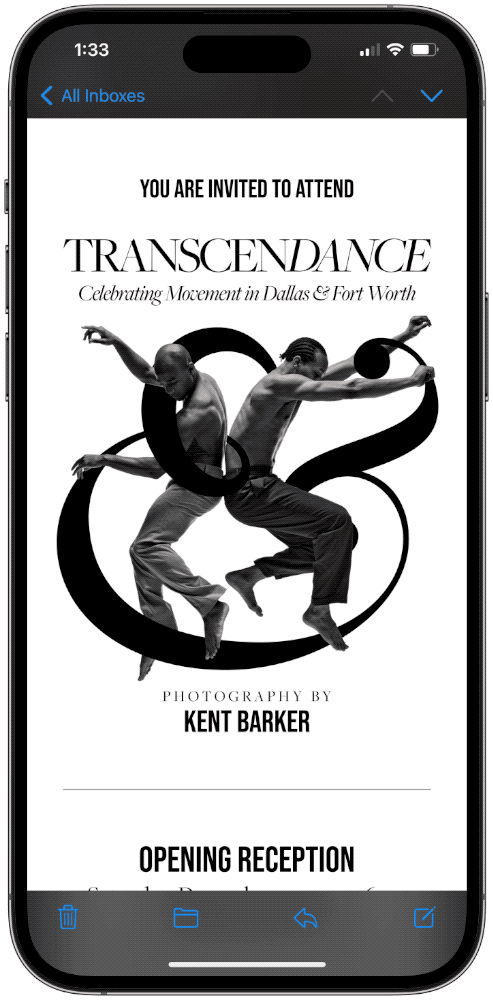 Creative Direction, Production, Design 
& 
Copy Editing: Mark Baker-Sanchez
Printing: AlphaGraphics